1.2M Combinations for Personalization-Ready Email Templates
Every rep who has ever tried their hand at writing a sales email template has had (or will have) a good ole case of writer's block. And we all know, there's nothing fun about  agonizing at your desk, staring at your computer screen and hoping it'll write a winning campaign for you! Up until now, we as reps usually opt to search through blog after blog in the search of new messaging only to find that most templates are outdated and start to all look the same after awhile. 
That's why we created a free Email Template Generator to help with the hardest part of getting started, which is  getting started.
Get acquainted with your new email generation helper and download at the bottom!
Emails, when broken down, are comprised of Subject Lines, Opening Lines, Body Paragraphs, and Closers/CTA's. 
In our Generator, you'll find:
Choose from 55 Subject Lines
Select 26 Openers
Start from 22 Body Paragraphs 
Pick from 34 Closing Lines 
Check out our lightweight Follow Up email templates while you're at it!
Along with a framework to build and reference common personalization points such as: 
[Triggers]
[Function / Department]
[Customer] and their [Size] & [Industry]
[Problem / Challenge]
[Solution]
[Winning Outcomes]
[Competitors]
[Value Prop]
[Similar Customers]
[Initiatives]
[Content]
As you Personalize your emails for each prospect, this approach makes research straightforward and will help you reclaim countless hours spent searching for relatable reference points every single time. 
#1 Start with Tab 2 - Establish your Unique [References]
Instead of trying to recall quick lines on "Large Healthcare Clients" or "Triggers," use the second tab to centralize the common points you search for and reference.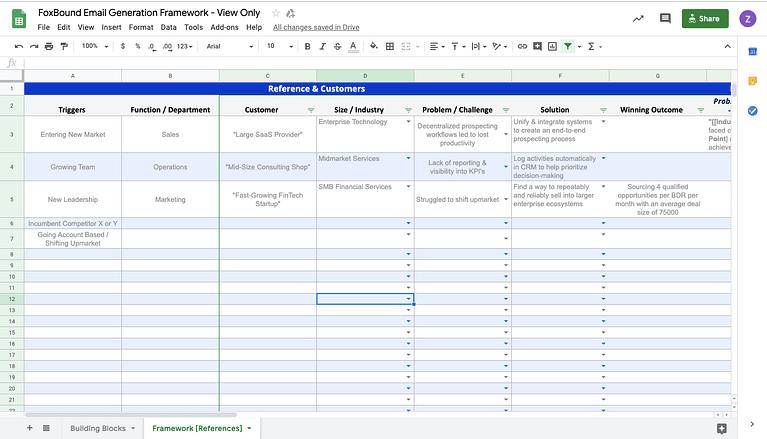 #2 Draft an Email Template
Under "Building Blocks," you'll find dozens of email elements to choose from. Sort by Inbound, Outbound, or Either (multipurpose).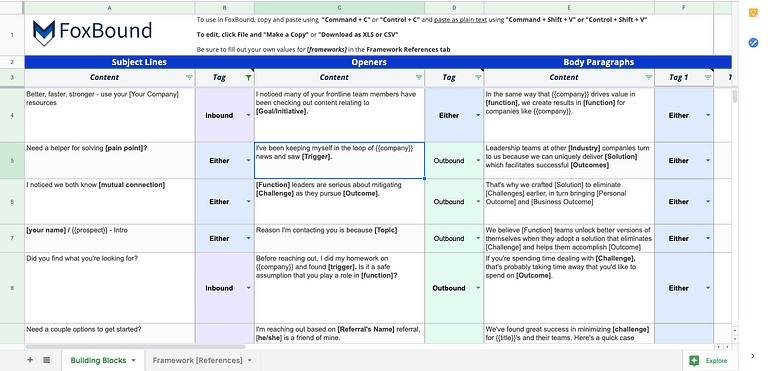 Using your sales automation solution, handpick the blocks fit for your message. If you're using FoxBound, be sure to "Paste and Match Style," by copying and using "Command + Shift + V" or "Control + Shift + V." 
Don't be sad if you don't have an automation platform – here's a free account on us 🙂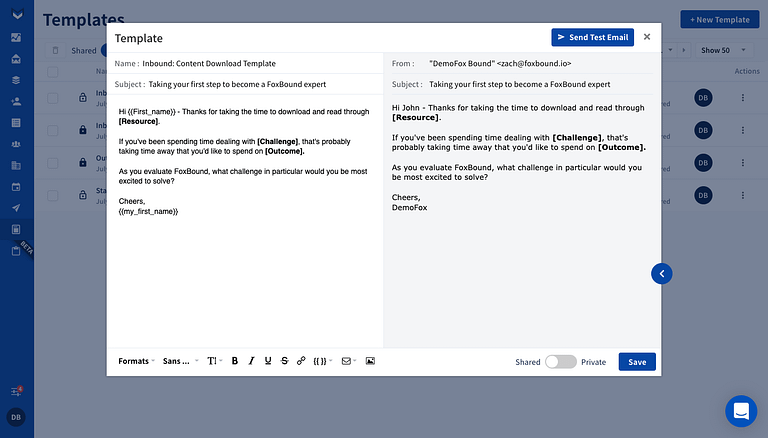 See what I did there? Drag and drop!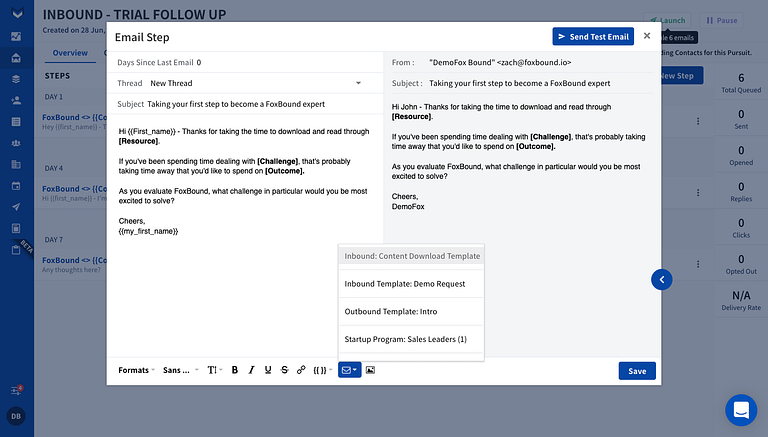 In Pursuit (or another sales campaign creator), inject your newly minted Templates into each step to create a winning sequence in no time!
#4 Use the [Framework] to Personalize
Before delivering your messages, keep your [Framework] sheet handy to make it easy to throw your references in each respective tag.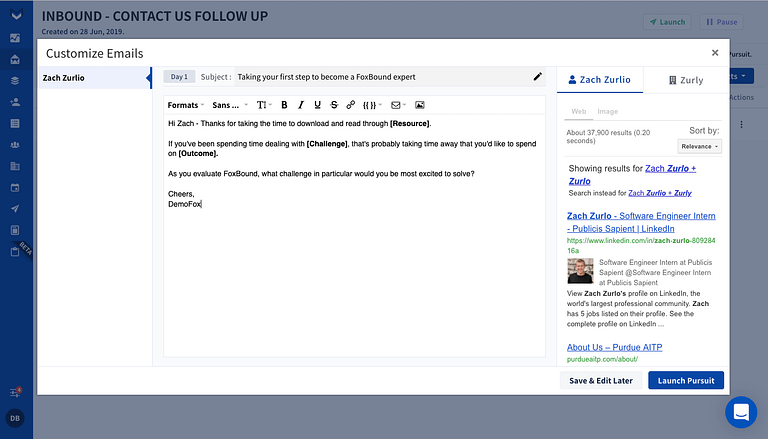 Then voila – a nicely arranged, personalized email is ready for delivery!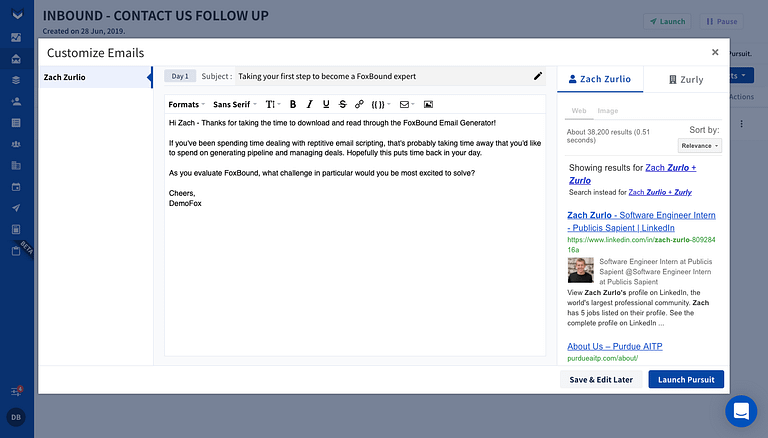 I invite you to stop reusing the same tired, rewritten templates every other rep on earth is using. Because seriously, prospects are probably really tired of getting messages like. "Hi Mr Prospect, I'm writing in hopes of finding the appropriate person who handles XYZ at your Company.." A broken clock is right twice a day, but I'd wager that the only replies you'll get will be from 2012 asking for their email templates back. 
With everything directly in front of you – you're sure to find it much easier and more practical to draft, personalize, and execute the delivery of your campaigns. 
Enjoy!